Silicone Molds for Parts and Prototypes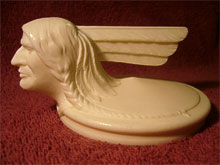 Resin auto parts
1928 pontiac hood ornament
Silicone Molds for Short Run Protoypes
Need more than a "one off " prototype, but still too few for most manufacturing processes. Silicone molds are your answer. Produce strong, rigid, machinable resin parts that can be drilled, threaded, sanded and cautiously polished. Or soft, flexible polyurethane parts. Pieces can be pigmented in the casting process, to give you a base colour and/or eliminate the need for painting.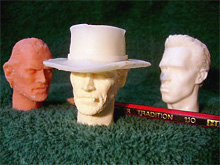 Silicone Molds for Auto Restorations
Need impossible to find dashboard knobs, or decorative panels, so long as you have access to an original, a silicone mold will enable you to reproduce it exactly.
Silicone Molds for Modelers
A silicone mold will enable you to reproduce parts for models.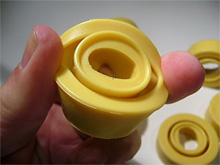 Silicone mold for flexible parts
Silicone Molds for Flexible Parts or Gaskets
With the right combination of molds you can produce, soft, flexible parts, with varying degrees of hardness and flex and some limited heat resistance.
Silicone Molds for Fibreglass
Want to manufacture fibreglass pieces with serious undercuts, silicone is the way to go. Well designed silicone molds will allow you to produce high levels of detail, undercuts, smooth flowing rounded corners and edges.
---
SILICON may well be the answer to your dilemma
Whether you need to reproduce three parts, 30 or even 300. Flat, oval, 3 dimensional, all are possible and as often as not, simple.
We offer you two easy solutions:
1. We can teach you how make your own molds
2. We will quote the job and produce the molds for you. Contact us.